Even as we celebrated the 1 hour gained from crossing a time zone, we were in for crap. It was 4:07PM (GMT +1), attractions were starting to shutter up and there was a lightning storm coming. On top of that, we had to be in Lisbon by 9PM for check-in.
The sun was still up, but there were twinkling flashes of light in the distance that sent my Pikachu senses into a fritz. All I needed was a sudden gust of wind and I would have darted for cover, very likely a quick, rambling retreat into the hole from whence I came.
While I continued to stare at the dark horizon with deep disagreement, Manu continued packing the daypack serenely. I made a nervous comment about the time and clouds that he handled gracefully with an almost-perfect poker face (there was a stubborn twitch in his jaw).
He had made his mind up to see Évora, so we were going to see Évora – come rain, shine or hail.
So, we went, went, went.
Streets
Cobblestones, violet jacaranda trees and warm gold highlights on whitewashed buildings. What can I say? Évora nailed it in terms of colour complements.
Food
Somehow, we found the time to sneak in a snack – pastéis de nata. Cream tarts! These bear resemblance to the Portuguese egg tarts in Singapore, except that they were much heavier on the sugar and cream.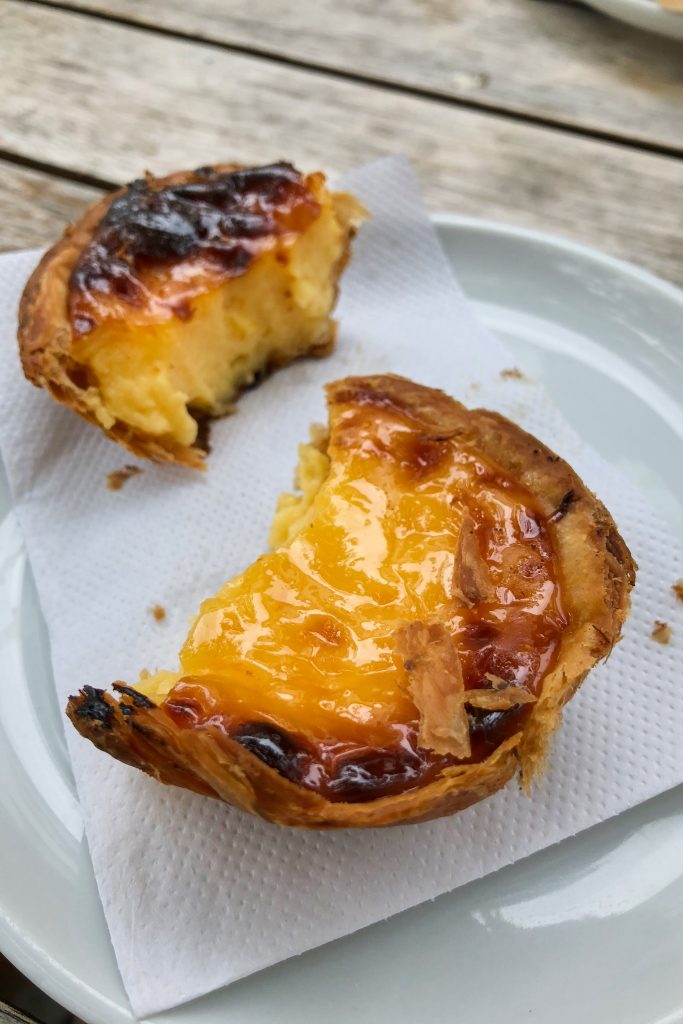 This is the only pathetic, half-eaten photo I have of the wonder that is pastéis de nata. It's the sole survivor that was sent to a sanctuary (i.e. my family WhatsApp chat).
We destroyed the rest with ruthless efficiency.
Catedral de Évora
We arrived just in time to see the last tourists trickling out from the main doors. Opening hours are from 9AM to 5PM but last admittance to the museum and the terrace is 1 hour and 30 mins respectively before closing[1]. Needless to say, we had to give this a miss.
Completed in the 13th Century on the highest hill in the city, the Cathedral of Évora is part of the Historic Centre of Évora a UNESCO World Heritage Centre[2] and is the largest of the medieval cathedrals in Portugal. The terrace reportedly offers the best panoramic views of the city – believable, considering it sits on the highest hill in the city.
Templo Romano Évora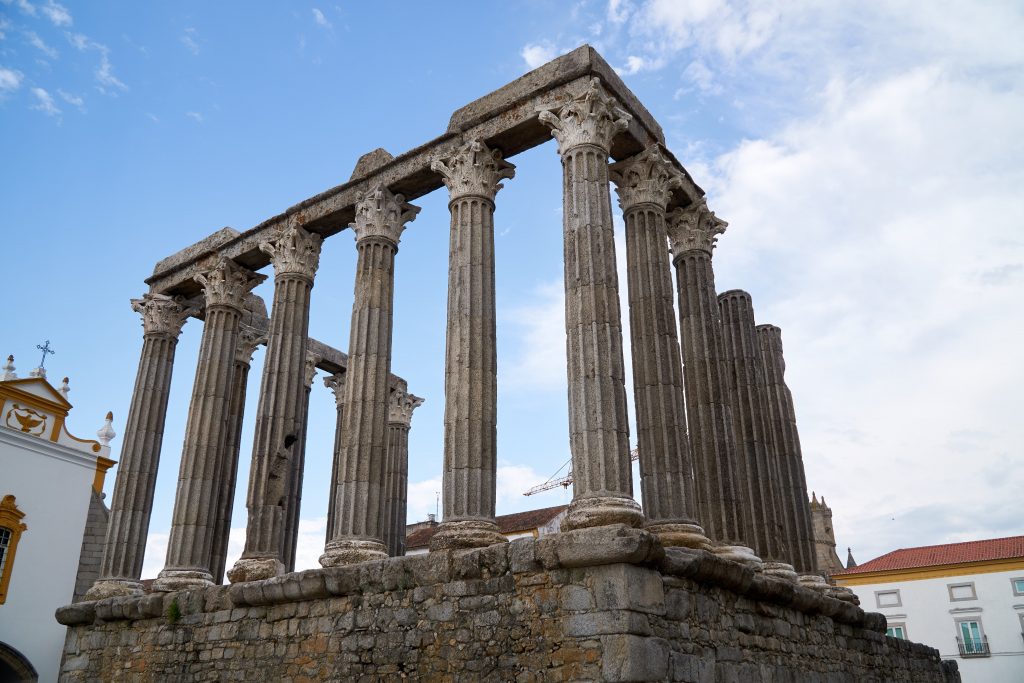 The Temple of Diana is one of the remnants of Roman presence in the city back when it was known as Ebora Liberalitas Julia. Situated on the junction of important trade routes, the city grew in significance during this time.
What's interesting is this temple had gone through several iterations during its time – a temple, then destroyed, then a castle stronghouse, then a tower, then embedded into the walls of a medieval building, then a butcher shop and finally, back to its believed original form seen through the lens of Romanticism.
The temple is located in a public park and open 24/7. You can circle about it freely, like a ravenous vulture, anytime you want.
Capela dos Ossos
Nos ossos que aqui estamos pelos vossos esperamos".

Inscribed above the entrance.
Translation: We bones that are here are waiting for yours. Doesn't it get you thinking, 'Oi, last warning!'
A frighteningly macabre attraction is the Chapel of Bones, which we did not visit because (thankfully) it was closed.
For those who are especially curious, check out Atlas Obscura's piece on this[3]. By far, one of the best written with mention of the noble backstory behind the eerie facade.
Personally, I don't deal very well with human remains – never have, probably never will. Those of you who have followed me on Tumblr might recall how I freaked out about stepping on graves in 2014 in the post below. I cannot deal. So this was not the place for me.
Almendres Cromlech
Dubbed the Portuguese Stonehenge, these prehistoric structures hint at Évora's cultural importance since time immemorial (5000 to 4000 BCE). It faded out of memory until its rediscovery in 1966 – a long time to be forgotten.
The word 'alemendres' roughly translates to "almonds" – the shape of the large stones, which have been arranged in two shrine-like ellipses and sometimes carved upon. The purpose of this Neolithic site remains unknown.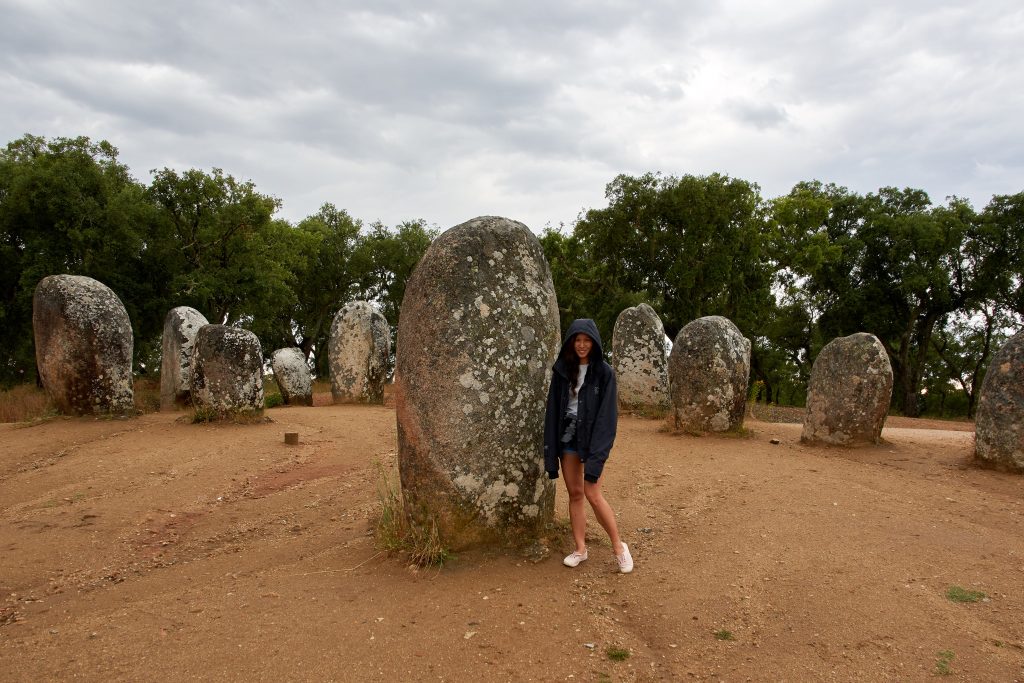 Here are a couple comical shots of us doing photography yoga.
I ended up stealing his jacket because I didn't have a single waterproof layer on me when the storm finally drenched us and turned portions of the road into a run-off river.
Directions
The cromlech is free, outdoors and open 24/7 but not accessible via public transport. It's a 26min 17.4km drive; the route's below. The last stretch is a wide, even dirt road that may be riddled with puddles and shallow run-off streams if it rains heavily. Nevertheless, 4-wheel drive not required.
As the rain got heavier and the lightning closer, we stuffed the cameras in our jackets and ducked into the hatchback – grinning like children – and drove off briskly towards Lisbon.
Travel notes
Location: Évora, Portugal – the capital of Alentejo
Famous for: Roman ruins; Chapel of Bones
Population: 59,596 (2011 census)
Getting around: You can explore on foot for all attractions except the Almendres Cromlech, however, wear decent shoes to deal with the rough cobblestones and uphills.
Stop duration: 2 hours 42 minutes, based on the last photograph taken at 6:49PM. On a related note, sunset's around 8:58PM that summer day, so we had plenty of daylight.
Tips: It's better to arrive in Évora by 1:00PM and give the town around 5 hours, including a short coffee break. Prioritise the Cathedral and the Chapel of Bones, so you're way ahead of the closing hours. Then, spend the rest of the afternoon having snacks, wandering about town, viewing the Temple of Diana, remains of an aqueduct and then the cromlech.
Other sites: Roman aqueduct with residential houses and the entrance to a square built between the arches. Cute.
Ending note
This location was part of a longer 8D7N road trip through Spain and Portugal that was covered in this post: Road-tripping the Iberian Peninsula.
Credits
Written and post-processed by Celeste Choo
Photographed by Celeste Choo and Manu HQ
Please refer to each photo's metadata for details on Rights of Use
References
[1] Cabido da Sé. (2017). Cabido da Sé de Évora. Retrieved August 22, 2018, from http://www.evoracathedral.com/?lang=en
[2] UNESCO World Heritage Centre. (2018). Historic Centre of Évora. Retrieved August 22, 2018, from https://whc.unesco.org/en/list/361
[3] Thuras, D. (2010, June 23). Portugal's Chapel of Bones. Retrieved August 22, 2018, from https://www.atlasobscura.com/places/portugals-chapel-bones